Houston Jacob Home Inspection 
Wells Information
Properly constructed private water supply systems require little routine maintenance. These simple steps will help protect your system and investment.
Always use licensed or certified water well drillers and pump installers when a well is constructed, a pump is installed or the system is serviced.

An annual well maintenance check, including a bacterial test, is recommended. Any source of drinking water should be checked any time there is a change in taste, odor or appearance, or anytime a water supply system is serviced.

Keep hazardous chemicals, such as paint, fertilizer, pesticides, and motor oil far away from your well.

Periodically check the well cover or well cap on top of the casing (well) to ensure it is in good repair.

Always maintain proper separation between your well and buildings, waste systems or chemical storage facilities. Your professional contractor knows the rules.

Don't allow back-siphonage. When mixing pesticides, fertilizers or other chemicals, don't put the hose inside the tank or container.

When landscaping, keep the top of your well at least one foot above the ground. Slope the ground away from your well for proper drainage.

Take care in working or mowing around your well. A damaged casing could jeopardize the sanitary protection of your well. Don't pile snow, leaves, or other materials around your well.

Keep your good records in a safe place. These include the construction report, as well as annual water well system maintenance and water testing results.

Be aware of changes in your well, the area around your well, or the water it provides.

When your well has come to the end of its serviceable life (usually more than 20 years), have your qualified water well contractor properly decommission your well after constructing your new system.
www.houstontx.gov/health/Lab/lab-newpage.htm
Septic Tank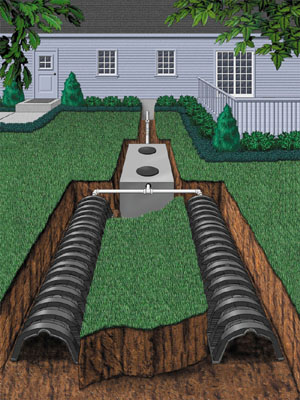 Everything that goes down any of the drains in the house (toilets, showers, sinks, laundry machines) travels first to the septic tank. The septic tank is a large-volume, watertight tank which provides initial treatment of the household wastewater by intercepting solids and settleable organic matter before disposal of the wastewater (effluent) to the drain field.
The function of the septic TankHow Long Liquids must Remain In TankSolids Storage
Anaerobic DecompostionFlow Into And Out of The TankEffluent Filter
Flow Buffering
Microbes in Septic Tanks Digest, Dissolve, and Gasify Complex Organic Wastes


FUNCTION OF THE SEPTIC TANK


While relatively simple in construction and operation, the septic tank provides a number of important functions through a complex interaction of physical and biological processes. The essential functions of the septic tank are to receive all wastewater from the house separate solids from the wastewater flow cause reduction and decomposition of accumulated solids provide storage for the separated solids (sludge and scum) pass the clarified wastewater (effluent) out to the drain field for final treatment and disposal. Primary Treatment
As stated, the main function of the septic tank is to remove solids from the
wastewater and provide a clarified effluent for disposal to the drain field.
The septic tank provides a relatively quiescent body of water where the
wastewater is retained long enough to let the solids separate by both
settling and flotation. This process is often called primary treatment and
results in three products: scum, sludge, and effluent. Scum: Substances lighter than water (oil, grease, fats) float to the top, where they form a scum layer. This scum layer floats on top of the water
surface in the tank. Aerobic bacteria work at digesting floating solids.Sludge: The "sinkable" solids (soil, grit, bones, unconsumed food particles)
settle to the bottom of the tank and form a sludge layer. The sludge is
denser than water and fluid in nature, so it forms a flat layer along the
tank bottom. Underwater anaerobic bacteria consume organic materials in the sludge, giving off gases in the process and then, as they die off, become part of the sludge.Effluent: Effluent is the clarified wastewater left over after the scum has floated to the top and the sludge has settled to the bottom. It is the clarified liquid between scum and sludge. It flows through the septic tank outlet into the drain field. HOW LONG LIQUIDS MUST REMAIN IN TANK
Effective volume: The floating scum layer on top and the sludge layer on the bottom take up a certain amount of the total volume in the tank. The effective volume is the liquid volume in the clear space between the scum and sludge layers. This is where the active solids separation occurs as the wastewater sits in the tank.

Retention time: In order for adequate separation of solids to occur, the
wastewater needs to sit long enough in the quiescent conditions of the tank.
The time the water spends in the tank, on its way from the inlet to the outlet, is known as the retention time. The retention time is a function of the effective volume and the daily household wastewater flow rate:

Retention Time (days) = Effective Volume (gallons)/Flow Rate (gallons per day) A common design rule is for a tank to provide a minimum retention time of at least 24 hours, during which one-half to two-thirds of the tank volume is taken up by sludge and scum storage. Note that this is minimum retention time, under conditions with a lot of accumulated solids in the tank. Under ordinary conditions (i.e., with routine maintenance pumping) a tank should be able to provide two to three days of retention time.
As sludge and scum accumulate and take up more volume in the tank, the
effective volume is gradually reduced, which results in reduced retention time. If this process continues unchecked-if the accumulated solids are not cleaned out (pumped) often enough-wastewater will not spend enough time in the tank for adequate separation of solids, and solids may flow out of the tank with the effluent into the drain field. This can result in clogged pipes and gravel in the drain field, one of the most common causes of septic system failure.

SOLIDS STORAGE
In order to avoid frequent removal of accumulated solids, the septic tank is (hopefully) designed with ample volume so that sludge and scum can be stored in the tank for an extended period of time. A general design rule is that one-half to two-thirds of the tank volume is reserved for sludge and scum accumulation. A properly designed and used septic system should have the capacity to store solids for about five years or more. However, the rate of solids accumulation varies greatly from one household to another, and actual storage time can only be determined by routine septic tank inspections.

ANAEROBIC DECOMPOSITION
While fresh solids are continually added to the scum and sludge layers,
anaerobic bacteria (bacteria that live without oxygen) consume the organic material in the solids. The by-products of this decomposition are soluble compounds, which are carried away in the liquid effluent, and various gases, which are vented out of the tank via the inlet pipe that ties into the house plumbing air vent system.
Anaerobic decomposition results in a slow reduction of the volume of
accumulated solids in the septic tank. This occurs primarily in the sludge layer but also, to a lesser degree, in the scum layer. The volume of the sludge layer is also reduced by compaction of the older, underlying sludge. While a certain amount of volume reduction occurs over time, sludge and scum layers gradually build up in the tank and eventually must be pumped out.

FLOW INTO AND OUT OF THE TANK
The inlet and outlet ports of the tank are generally equipped with devices such as baffles, concrete tees, or in more recent years, sanitary tees (T-shaped pipes with one short and one long leg).

Inlets
The inlet device dissipates the energy of the incoming flow and deflects it downwards. The vertical leg of the tee extends below the liquid surface well into the clear space below the scum layer. This prevents disturbance of the floating scum layer and reduces disruptive turbulence caused by incoming flows. The inlet device also is supposed to prevent short-circuiting of flows across the water surface directly to the outlet.
The upper leg of the inlet should extend well above the liquid surface in order to prevent floating scum from backing up into, and possibly plugging, the main inlet pipe. The open top of the inlet tee allows venting of gases
out of the tank through the inlet pipe and fresh air vents of the household plumbing.

Outlets
The outlet device is designed to retain the scum layer within the tank. A
sanitary tee can be used with the lower leg extending below the scum layer.
The elevation of the outlet port should be 2 to 3 inches below the elevation of the inlet port. This prevents backwater and stranding of solids in the main inlet pipe during momentary rises in the tank liquid level caused by surges of incoming wastewater.

Typical inlet/outlet tees

Gas Deflection Baffle

Gases are produced by the natural digestion of sludge at the bottom of the tank, and particles of sludge can be carried upward by these rising gases.
Some tanks have a gas deflection baffle, which prevents gas bubbles (to
which solid particles often adhere) from leaving the tank by deflecting them away from the outlet and preventing them from entering the drain field.

THE EFFLUENT FILTER
In newer systems, there is often an effluent filter: one of the significant
improvements in septic tank design in decades. They range from 4 to 18
inches in diameter. As we have described, the most serious problem with septic systems is the migration of solids, grease, or oil into the
drain field, and the filter is effective in preventing this.
A filter restricts and limits passage of suspended solids into the effluent.
Solids in a filtered system's effluent discharge are significantly less than
those produced in a non-screened system.



FLOW BUFFERING
The septic tank also provides a buffering of flows between the house and the drain field. Large surges from the household, such as toilet flushing or washing machine drainage, are dampened by the septic tank so that the flows leaving the tank and entering the drain field are at substantially lower flow rates and extend over a longer period of time than the incoming surges.

MICROBES IN SEPTIC TANKS DIGEST, DISSOLVE, AND GASIFY COMPLEX ORGANIC WASTES
In 1907, W. P. Dunbar conducted tests on the decomposition of vegetable and animal matter in septic tanks. He stated, "The author has investigated the subject by suspending in septic tanks a large number of solid  organic substances, such as cooked vegetables, cabbages, turnips, potatoes, peas, beans, bread, various forms of cellulose, flesh in the form of dead bodies of animals, skinned and unskinned, various kinds of fat, bones, cartilage, etc., and has shown that many of these substances are almost completely dissolved in from three to four weeks. They first presented a swollen appearance and increased in weight. The turnips had holes on the surface, which gradually became deeper. The edges of the cabbage leaves looked asthough they had been bitten, and similar signs of decomposition were visiblein the case of other substances. Of the skinned animals, the skeleton alone remained after a short time; with the unskinned animals, the process lasted rather longer. At this stage I will only point out that the experiments were so arranged that no portion of the substances could be washed away; their disappearance was therefore due to solution and gasification."
Radon Information What is Radon? Radon comes from the natural breakdown of uranium in soil, rock, and water. The release of this radioactive gas enters the air you breathe, causing a potential health risk to you and your family. Radon gas can be found in just about anywhere. It can get into any type of building — homes, offices, and schools — and build up to high levels.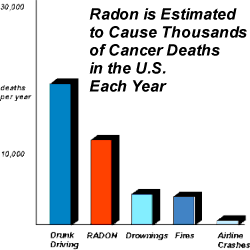 What you should know about Radon Radon is a cancer-causing radioactive gas. You cannot see radon and you cannot smell it or taste it, but it may be a problem in your home. This is because when you breathe air containing radon, you increase your risk of getting lung cancer. In fact, the Surgeon General has warned that radon is the second leading cause of lung cancer.You should test for radon. Testing is the only way to find out about your home's radon level. The EPA and the Surgeon General recommend testing of all homes below the third floor for radon. You can fix a radon problem. If you find that you have high radon levels, there are ways to fix a radon problem. Even very high levels can be reduced to acceptable levels. If you are buying a home. EPA recommends that you obtain the radon level in the home you are considering buying. An EPA publication "The Home Buyer's and Seller's Guide" is available through most State Health Departments or Regional EPA offices listed in your local phone book. EPA also recommends that you use a certified or state licensed radon tester to perform the test. If elevated levels are found it is recommended that these levels be reduced. In most cases, a professional can accomplish this at a reasonable cost or homeowner installed mitigation system that adheres to the EPA's approved methods for reduction of radon in a residential structure. What are the Risk Factors? The EPA, Surgeon General and The Center for Disease Control, have all agreed that continued exposure to Radon gas can cause lung cancer. In fact, their position on the matter is that all homes should be tested for radon gas exposure, and all homes testing over 4 pCi/L should be fixed. How Does Radon Enter the Home?

Typically the air pressure inside your home is lower than the pressure in the soil around your home's foundation.

Due to this difference, your house acts like a vacuum, drawing radon gas in through foundation cracks and other openings of your home.

Radon may also be present in well water and can be released into the air in your home when water is used for showering and other household uses.

Potential Entry Points: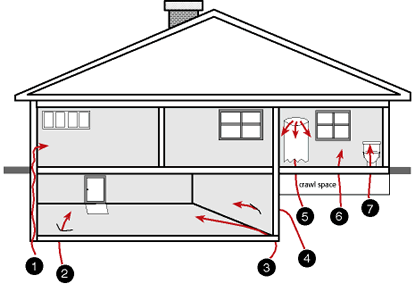 1
Cavities inside walls
2
Cracks in solid floors
3
Construction Joints
4
Cracks in walls
5
The water supply
6
Gaps in suspended floors
7
Gaps around service pipes
Mold InformationWhat is Mold? Molds are fungi. Molds grow throughout the natural and built environment. Tiny particles of mold are present in indoor and outdoor air. In nature, molds help break down dead materials and can be found growing on soil, foods, plant matter, and other items. Molds produce microscopic cells called "spores" which are very tiny and spread easily through the air. Live spores act like seeds, forming new mold growths (colonies) when they find the right conditions. What does mold need to grow?
Mold only needs a few simple things to grow and multiply:
Moisture
Nutrients
A suitable place to grow
Of these, controlling excess moisture is the key to preventing and stopping indoor mold growth.
Should I be concerned about mold in my home? Mold should not be permitted to grow and multiply indoors. When this happens, health problems can occur and building materials, goods, and furnishings may be damaged.
Health Effects
Can mold make me and my family sick?
Mold can affect the health of people who are exposed to it. People are mainly exposed to mold by breathing spores or other tiny fragments. People can also be exposed through skin contact with mold contaminants (for example, by touching moldy surfaces) and by swallowing it.
The type and severity of health effects that mold may produce are usually difficult to predict. The risks can vary greatly from one location to another, over time, and from person to person.
What symptoms might I see?
The most common health problems caused by indoor mold are allergy symptoms. Although other and more serious problems can occur, people exposed to mold commonly report problems such as:
Nasal and sinus congestion
Cough
Wheeze/breathing difficulties
Sore throat
Skin and eye irritation
Upper respiratory infections (including sinus)
Are the risks greater for some people?
There is wide variability in how different people are affected by indoor mold. However, the long term presence of indoor mold growth may eventually become unhealthy for anyone. The following types of people may be affected more severely and sooner than others:
Infants and children
Elderly people
Individuals with respiratory conditions or sensitivities such as allergies and asthma
Persons having weakened immune systems (for example, people with HIV infection, chemotherapy patients, organ transplant recipients)
Those with special health concerns should consult a medical professional if they feel their health is affected by indoor mold. Are some molds more hazardous than others?
Some types of mold can produce chemical compounds (called mycotoxins) although they do not always do so. Molds that are able to produce toxins are common. In some circumstances, the toxins produced by indoor mold may cause health problems. However, all indoor mold growth is potentially harmful and should be removed promptly, no matter what types of mold is present or whether it can produce toxins.
Home Investigation
How do I tell if I have a mold problem?
Investigate, don't test. The most practical way to find a mold problem is by using your eyes to look for mold growth and by using your nose to locate the source of a suspicious odor. If you see mold or if there is an earthy or musty smell, you should assume a mold problem exists. Other clues are signs of excess moisture or the worsening of allergy-like symptoms.
Look for visible mold growth (may appear cottony, velvety, granular, or leathery and have varied colors of white, gray, brown, black, yellow, green). Mold often appears as discoloration, staining, or fuzzy growth on the surface of building materials or furnishings. When the mold is visible, testing is not recommended.
Search areas with noticeable mold odors.
Look for signs of excess moisture or water damage. Look for water leaks, standing water, water stains, condensation problems. For example, do you see any watermarks or discoloration on walls, ceilings, carpet, woodwork or other building materials?
Search behind and underneath materials (carpet and pad, wallpaper, vinyl flooring, sink cabinets), furniture, or stored items (especially things placed near outside walls or on cold floors). Sometimes destructive techniques may be needed to inspect and clean enclosed spaces where mold and moisture are hidden; for example, opening up a wall cavity.
Should I test for mold?
We do not recommend testing for mold yourself. Instead, you should simply assume there is a problem whenever you see mold or smell mold odors. Testing should never take the place of visual inspection and it should never use up resources that are needed to correct moisture problems and remove all visible growth.
Sometimes, mold growth is hidden and difficult to locate. In such cases, a combination of air (outdoor and indoor air samples) and bulk (material) samples may help determine the extent of contamination and where cleaning is needed. However, mold testing is rarely useful for trying to answer questions about health concerns.
Mold Clean-up and Removal
To clean up and remove indoor mold growth, follow steps 1-6 as they apply to your home.
Identify and Fix the Moisture Problem – the most important step in solving a mold problem is to identify and correct the moisture sources that allowed the growth in the first place. Common indoor moisture sources include:

Flooding
Condensation (caused by indoor humidity that is too high or surfaces that are too cold)
Movement through basement walls and slab
Roof Leaks
Plumbing leaks
Overflow from tubs, sinks, or toilets
Firewood stored indoors
Humidifier use
Inadequate venting of kitchen and bath humidity
Improper venting of combustion appliances
Failure to vent clothes dryer exhaust outdoors (including electric dryers)
Line drying laundry indoors
House plants – watering them can generate large amounts of moisture
To keep indoor surfaces as dry as possible, try to maintain the home's relative humidity between 20-40 percent in the winter and less than 60 percent the rest of the year. You can purchase devices to measure relative humidity at some home supply stores. Ventilation, air circulation near cold surfaces, dehumidification, and efforts to minimize the production of moisture in the home are all very important in controlling high humidity that frequently causes mold growth in our cold climate.
Begin Drying All Wet Materials – as soon as possible, begin drying any materials that are wet. For severe moisture problems, use fans and dehumidifiers and move wet items away from walls and off floors. Check with equipment rental companies or restoration firms to see if you can rent fans and dehumidifiers.
Remove and Dispose of Mold Contaminated Materials – items which have absorbed moisture (porous materials) and which have mold growing on them need to be removed, bagged and thrown out. Such materials may include sheet rock, insulation, plaster, carpet/carpet pad, ceiling tiles, wood products (other than solid wood), and paper products. Likewise, any such porous materials that have contacted sewage should also be bagged and thrown away. Non-porous materials with surface mold growth may be saved if they are cleaned well and kept dry (see step 4).

Take Steps to Protect Yourself – the number of mold particles in the air can increase greatly when the mold is disturbed. Consider using protective equipment when handling or working around mold-contaminated materials. The following equipment can help minimize exposure to mold:

Rubber gloves
Eye goggles
Outer clothing (long sleeves and long pants) that can be easily removed in the work area and laundered or discarded
Medium-efficiency or high-efficiency filter dust mask (these can be found at safety equipment suppliers, hardware stores, or some other large stores that sell home repair supplies) — at a minimum, use an N-95 or equivalent dust mask

Take Steps to Protect Others – plan and perform all work to minimize the amount of dust generated. The following actions can help minimize the spread of mold spores:

Enclose all moldy materials in plastic (bags or sheets) before carrying through the home
Hang plastic sheeting to separate the work area from the rest of the home
Remove outer layer of work clothing in the work area and wash separately or bag
Damp clean the entire work area to pick up settled contaminants in dust

Clean Surfaces – surface mold growing on non-porous materials such as hard plastic, concrete, glass, metal, and solid wood can usually be cleaned. Cleaning must remove and capture the mold contamination because dead spores and mold particles still cause health problems if they are left in place.

Thoroughly scrub all contaminated surfaces using a stiff brush, hot water, and a non-ammonia soap/detergent or commercial cleaner
Collect excess cleaning liquid with a wet/dry vacuum, mop or sponge
Rinse area with clean water and collect excess rinse water

Disinfect Surfaces (if desired) – after cleaning has removed all visible mold and another soiling from contaminated surfaces, a disinfectant may be used to kill mold missed by the cleaning. In the case of sewage contamination, disinfection must be performed. Contact your home inspector for advice.

Mix 1/4 to 1/2 cup bleach per gallon of water and apply to surfaces where mold growth was visible before cleaning. The solution can be applied with a spray bottle, garden sprayer, it can be sponged on, or applied by other methods.
Collect any run-off of bleach solution with a wet/ dry vacuum, sponge or mop. However, do not rinse or wipe the bleach solution off the areas being treated — allow it to dry on the surface.

Always handle bleach with caution. Never mix bleach with ammonia — toxic chlorine gas may result. Bleach can irritate the eyes, nose, throat, and skin. Provide fresh air (for example, open a window or door). Protect skin and eyes from contact with bleach. Test solution on a small area before treatment, since bleach, is very corrosive and may damage some materials.

Remain on Mold Alert – Continue looking for signs of moisture problems or return of mold growth. Be particularly alert to moisture in areas of past growth. If mold returns, repeat cleaning steps and consider using a stronger solution to disinfect the area again. Regrowth may signal that the material should be removed or that moisture is not yet controlled.
When can we rebuild?
Rebuilding and refurbishing must wait until all affected materials have dried completely. Be patient it takes time to dry out wet building materials.
Asbestos Information
What Is Asbestos?
Asbestos is a mineral fiber found in rocks, of naturally occurring silicate minerals that can be separated into fibers. There are several kinds of asbestos fibers, all of which are fire resistant and not easily destroyed or degraded by natural processes. The fibers are strong, durable, and resistant to heat and fire. They are also long, thin and flexible so that they can even be woven into cloth, because of these qualities, asbestos has been used in thousands of consumer, industrial, maritime, automotive, scientific and building products.

The above photo shows typical asbestos insulated heating pipe found in older homes.
During the twentieth century, some 30 million tons of asbestos have been used in industrial sites, homes, schools, shipyards and commercial buildings in the United States. There are several types of asbestos fibers, of which three have been used for commercial applications: (1) Chrysotile, or white asbestos, comes mainly from Canada and has been very widely used in the US. It is white-gray in color and found in serpentine rock. (2) Amosite, or brown asbestos, comes from southern Africa. (3) Crocidolite, or blue asbestos, comes from southern Africa and Australia.
Is Asbestos Dangerous?
Asbestos has been shown to cause cancer of the lung and stomach according to studies of workers and others exposed to asbestos. There is no level of exposure to asbestos fibers that experts can assure is completely safe. Some asbestos materials can break into small fibers which can float in the air and these fibers can be inhaled. The tiny fibers are so small they can not be seen with the naked eye. They can pass through the filters of normal vacuum cleaners and get back into the air. Once inhaled, asbestos fibers can become lodged in tissue for a long time. After many years cancer or mesothelioma can develop.
Are All products With Asbestos A Health Risk?
No. A health risk exists only when asbestos fibers are released from the material or product. Soft, easily crumbled asbestos-containing material has the greatest potential for asbestos release and therefore has the greatest potential to create health risks.
Do All People Exposed To Asbestos, Develop Asbestos Related Disease? No. Most people exposed to small amounts of asbestos do not develop any related health problems. Health studies of asbestos workers and others, however, show that the chances of developing some serious illnesses, included lung cancer, are greater after exposure to asbestos.
What Are Asbestos-Containing Products?
What is common to many asbestos-containing products is that they were (are) used to contain heat (i.e. thermal insulation.) This was the main reason for their use. It is impossible to list all of the products that have, at one time or another, contained asbestos. One of the most common products asbestos is found in is in the insulation material found on heating pipes and ducts of homes built before 1960.
Some of the other common asbestos-containing products are insulating cement, insulating block, asbestos cloth, gaskets, packing materials, thermal seals, refractory and boiler insulation materials, transit board, asbestos cement pipe, fireproofing spray, joint compound, vinyl floor tile, ceiling tile, mastics, adhesives, coatings, acoustical textures, duct & pipe insulation for heating, ventilation and air conditioning (HVAC) systems, roofing products, insulated electrical wire and panels, and brake and clutch assemblies.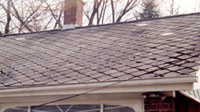 People who have frequently worked with asbestos (such as plumbers, building contractors or heating contractors) often are able to make a reasonable judgment about whether or not a material contains asbestos on a visual inspection. Many professional home inspectors also can make a reasonable visual judgment. To be absolutely certain, an industrial hygienist would have to make the identification.

If Asbestos Is Found In My Home, What Should I Do?
In most cases, asbestos-containing materials are best left alone.
When it is necessary to disturb asbestos, you should contact a licensed asbestos contractor. You can also obtain a copy of Asbestos in the Home published by the U.S. Consumer Products Safety Commission (800-638-2772) which discusses the situation and makes recommendations. Remember, do not dust, sweep, or vacuum particles suspected of containing asbestos fibers.
Swimming Pool Information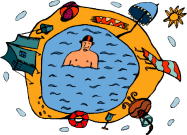 This information can clarify and help answer some questions. Pool types: Pools are available in two types: above ground and in-ground. The type can determine the amount and kind of cleaning methods. Pool materials: Pools come in a variety of different materials, some requiring more maintenance than others. Fiberglass is used for a one-piece tub fitted into a pre-dug hole. The slick surface repels algae, but it will need occasional re-coating. Concrete is covered with a plaster water seal that can take more wear and tear than other pool materials. It'll probably need to be replaced every 7 to 10 years. Aggregate finish is a concrete pool with a specialized finish that has better traction. It's covered with a layer of embedded rounded gravel. Tile is a concrete pool with a tile finish instead of a plaster finish. The tile surface requires less surface maintenance than other surfaces. The slick surface of a vinyl liner, like fiberglass, repels algae. Pool problems: How much your pool is used will help determine the amount of cleaning needed. For instance, murky or colored water may mean you have chemical imbalances, pollutants such as microorganisms, or a clogged filter. Clogged filters can mean money down the drain. Algae can be another spoiler. It needs to be attacked two ways — through chemical treatment, and a lot of filtering, backwashing, scrubbing and skimming. Whether it is green, brown, or little black spots of algae, it will take over your pool if it is not dealt with immediately. Features: Pools can have several features that can affect your cleaning job. Many larger pools have heaters, especially those installed in cooler climates. Many homeowners turn off the heater in the warmer months to save on the utility bill. Your filtration system keeps the water clean. Improper chemical balances open the door to contamination, therefore it's also advisable to use a water testing kit. It gives a good indication when you need temporary treatment, and when a pool service professional is needed. Some manual pool covers are designed for safety to keep kids out of the water in case they slipped on the edge. Winter covers can also lower your heating and chemical use. It's a nice feature to keep leaves and bugs at a minimum. An automatic pool cover is just like a manual pool cover, except a machine rolls it back and forth along tracks. There is more to cleaning a pool, however than keeping a proper pH balance. Not only is there skimming for floaties, but also vacuuming; scrubbing the tiles, sides, and floor; and cleaning, maintaining, emptying, and backwashing the filter and pump. A professional pool cleaning service will give you many clean, clear hours free of scale, rust, pollutants, bacteria, and cloudy water. (But it's up to you to watch for that occasional leaf.)

If you own an outdoor pool in a climate that gets cold during the winter, many experts strongly suggest you winterize your pool. Winterization usually entails draining most of the water, blowing out the pipes, applying algaecide and antifreeze in key areas, and covering the pool. Winterization will protect your pool from any freeze damage that can harm your pool surface and equipment.
Indoor Air Quality
One sure path to energy efficiency in houses is eliminating air leaks. If you cut down the amount of air that has to be heated and cooled, you cut your utility bill substantially. But plugging up all those air leaks means less fresh air inside and this has brought on other problems.One of the first to be identified was elevated concentrations of volatile organic compounds in the air. Commonly called VOC's, these compounds are used in the manufacture of the many synthetic building products used in most new houses today, including carpeting, flooring, paint, cabinetry, countertops, and the structural framework itself. Hundreds of off-gassing VOC's have been identified, but the one that has captured the most attention is formaldehyde. It is a potent eye and nose irritant and causes respiratory effects. It is also classified by the US Government Environmental Protection Agency as a probable human carcinogen.In response to the concerns raised by health officials and the public over the last fifteen years, manufacturers of some building materials and furnishings have altered their chemical formulations, significantly reducing the amount of VOC's off-gassing from their products.A brand new house will still have a significant amount of VOC's in the air because the rate at which the VOC's off-gas is highest initially. This phenomenon accounts for the "new house smell" that most new house buyers experience. Delaying a move-in and airing out a house by opening all the windows and running all the exhaust fans will benefit the occupants, even if this is done for only two days, advised John Girman, Director of the Center for Analysis and Studies for the Indoor Environmental Division of the US Government Environmental Protection Agency.Continuing to keep the windows open and ventilating the house for several days to several weeks, if weather permits, can also be beneficial, added Al Hodgson of Lawrence Berkeley National Laboratory in Berkeley, California, who has been studying indoor air quality for the last 18 years.After the first month or so, the rate at which the VOC's off-gas from building materials may fall off, but Hodgson's research indicates that the off-gassing phenomenon will continue at a slow and steady pace for months or even years. Hodgson measured the indoor air quality in eleven new, but unoccupied houses one to two months after their completion. Some were monitored over a period of about nine months. Overall he found that the concentrations of VOC's in the houses were not "alarming," although the concentrations of some compounds were high enough to produce an odor. The levels of formaldehyde were too low to have a smell, but high enough to cause discomfort in some individuals.Although the level of VOC's in new houses does fall off over time, buyers can reduce it at the outset by their selection of finishes. Hodgson's research has shown while carpets are generally low emitters of VOC's, a reasonable quality, medium-grade, nylon, certified green label carpet may emit less than the basic grade carpet that most builders offer as standard. Installing the carpet with tack strips instead of an adhesive eliminates a potential VOC source altogether. Synthetic fiber carpet padding emits less than the rebonded padding that most production builders provide.Hodgson's "certified green label carpet" refers to the green and white Carpet and Rug Institute emission test sticker found on carpeting that meets their emission standard. Their testing program was established after sensational stories about "killer carpets" appeared in newspapers and TV news programs in the early nineties. In a New England lab, mice were exposed to carpet samples and subsequently died. Scientists in other labs including the EPA were never able to replicate these results and the reason for the mice's demise remains unclear.After the Carpet and Rug Institute started its carpet-testing program, it raised the emission standards, which has further reduced carpet emissions. Even so, carpeting can still have an odor that makes people think that they are being exposed to something awful, Hodgson observed.Vinyl flooring is a stronger emitter than carpet, but it too should not be a cause for concern, Hodgson said.The oil-based alkyd and water-based latex paints used in most houses are another sources of VOC's. The alkyds, which create a harder, more washable surface, are usually used for bathrooms, kitchens, and the trim around doors, windows, and baseboards. They produce a terrible smell and emit hundreds of VOC compounds, but these are almost entirely dissipated after about 48 hours, said John Chang, of the EPA labs in Triangle Park, North Carolina. The latex paints have a different smell and emit only four or five VOC compounds, but these continue to off-gas for days and weeks after the paint is dry. "Low VOC" latex paints are now available, but some of these emit formaldehyde and buyers should check the paint emission data, he advised.Hodgson is currently studying the man-made wood products used in residential construction because most of them contain formaldehyde, and formaldehyde concentrations in the indoor air of new houses have been found to be higher than in other building types. Large quantities of these wood products including cabinet materials, doors, door and window trim, and baseboards are found in the finished space of new houses. Man-made wood products are also used extensively in their structural framework. Hodgson is looking at the emissions of formaldehyde and VOC's from each product as well as the amount of exposed surface of each product. He is finding that bare surfaces of wood products can have relatively high emissions, but that surfaces with laminate and vinyl finish generally have low emissions.

In some cases, products that are considered to be low emitters are turning out to be a significant source of VOC's when viewed in the context of the whole house, Hodgson said. For example, formaldehyde and other VOC's given off by the oriented strand board or plywood used for the subfloor in most new houses today are low when calculated on a square foot or a per piece basis. But Hodgson's research is showing that when the total area of the subflooring in a typical house is taken into account, it can be a significant VOC source and that the overlying carpet and carpet padding are not effective barriers.

Other research in indoor air quality in new houses has focused on the problem of underventilation. Until the last 20 years or so, mechanical engineers could reasonably assume that between air leaks and occupants opening the windows, everyone was getting plenty of fresh air. But as houses have become tighter, less outside air is penetrating through air leaks and with air conditioning; no one opens the windows in the summer anymore.

To rectify this situation, the American Society for Heating, Refrigeration, and Air Conditioning Engineers, commonly known as ASHRAE, proposes that mechanical ventilation is required in all new houses, as it is in most commercial and office buildings. The engineers have not dictated how this should be accomplished, and the desired ventilation rate varies with the size of the house and the number of bedrooms. For a 2,400 square-foot house with four bedrooms, for example, the proposed rate would be .35 changes per hour. At this rate, all the air in the house would be replenished every three hours.

Some homebuilders have suggested that ASHRAE's ventilation proposal could add $1,500 to $6,000 to the cost of a new house, but ASHRAE's proposal could be easily and inexpensively done. One continuously running 100 cfm bathroom exhaust fan that is exhausted to the outside would do the job for a 2,400 square foot house and this modification would cost only $75 to $100 more than the exhaust fan and venting that the builder would already be installed in the bathroom, said Max Sherman, also of the Lawrence Berkeley National Laboratory, who has studied indoor air for 20 years. Putting a smaller continuously running fan in each bathroom is a more expensive solution, but it would distribute the fresh air more evenly.

The ASHRAE proposal includes a sound recommendation for the continuously running fan because occupants turn fans off when they're too noisy. The dedicated exhaust fan should have a sound level of one sone or less so that it won't disturb a household at night when the ambient noise level is low.

Relocating the air-handling unit from the garage to some other place in the house would also improve indoor air quality, Sherman said. In some parts of the country such as Florida and California, houses do not have basements and the air handling equipment is often put in the garage. Unfortunately, the ducts for the system often leak so that if a car engine is left running for any length of time, homeowners can unwittingly introduce carbon monoxide into their living areas.
Water TestingWater is the universal solvent, and it has the capability of dissolving just about anything. Because of this unique property, water can easily become contaminated. Serious contaminates such as Lead and E. Coli Bacteria may be toxins affecting your family's health. Listed below are the four major testing categories that we can examine when doing a water test.
Inorganic—Minerals and physical properties Organic—Petroleum products, gasoline, fuel oil, and solvents
Microbiology—Coliform and other bacteria Radiology—Radon gas Test Options
1. Standard Test includes Microbiology and Inorganic. 2. Comprehensive Test includes all four testing categories: inorganic, organic, microbiology, and radon. The comprehensive test is a good way to start. It is a powerful tool in detecting contaminants commonly found in surface and deep well waters. 3. If you are suspicious of pesticides or herbicides, the Comprehensive Plus Pesticides test is recommended. We can also test for individual items such as Lead in Water.
EIFS – Exterior Insulation and Finishing Systems What are EIFS?Exterior Insulation and Finish Systems (EIFS) are multi-layered exterior wall systems that are used on both commercial buildings and homes. EIFS have introduced in the U.S. almost 30 years ago and were first used on commercial buildings and then later on homes. EIFS typically consist of an insulation board made of polystyrene foam (which is secured to the exterior wall surface with an adhesive and/or mechanical attachments), a water-resistant base coat applied on top of the insulation and reinforced with fiberglass mesh, and a finish coat typically using acrylic co-polymer technology. This type of system is often referred to as artificial stucco.

EIFS System Components
The Potential Problem with EIFS…
The potential problem with EIFS is that moisture can get trapped behind the highly water-resistant material with no way out. This can cause the framing to rot and foster the growth of mold between the exterior and interior walls. Damp and rotting wood is also a prime target for subterranean termites. It should be stated that the potential for these conditions exists with any type of exterior siding product be it brick veneer, wood, or vinyl siding. The potential for this condition with EIFS, however, can be exacerbated by its superior water resistance. Once moisture gets in, regardless of its origin, it usually has no escape.
The main locations where water tends to infiltrate into the framing structure of a building using an EIFS is around doors and windows, where the roof connects to the EIFS (roof flashing), and below extended exterior deck connections. Also, any moisture from within the home trying to find a path out will likely be thwarted by the EIFS.
The EIFS industry has been plagued by class action, and individual lawsuits (particularly in humid climates). The public's confidence in the products has been shaken, to say the least. The lawsuits contend that the problem is with the nature of the product and the manufacturers contend that sloppy installation and poor maintenance are the culprits.
Regardless of who is "right", it's clear that homes with EIFS require special scrutiny during the inspection.
CERTIFIED HOME INSPECTION SERVICES
A home inspection is only as good as the inspector. That's why the Houston Jacob Home inspection has the latest technology, most experienced and trained home inspectors in Houston Texas Whether you're a homebuyer, seller, or homeowner, we'll provide you with a detailed description of a home's condition so you can move forward confidently and with peace of mind.
Serving Greater Houston Texas, and the surrounding counties; Harris, Cypress, Montgo